This trip took us from our home in New Jersey to Skyline Drive/Shenandoah Valley National Park in Virginia, to Gatlinburg, TN, and back. Seventeen hundred miles in total, I drove. In addition to the touristy things we saw and did, six of us did a 10.6-mile hike through Smokey Mountain National Park. My daughter started out being the only one sick with the croup, but eventually, more than half of the elven of us wound up getting sick. My two kids now have bronchitis, along with my wife. As I started to write this, everyone in my family was asleep except me- it was 1 pm.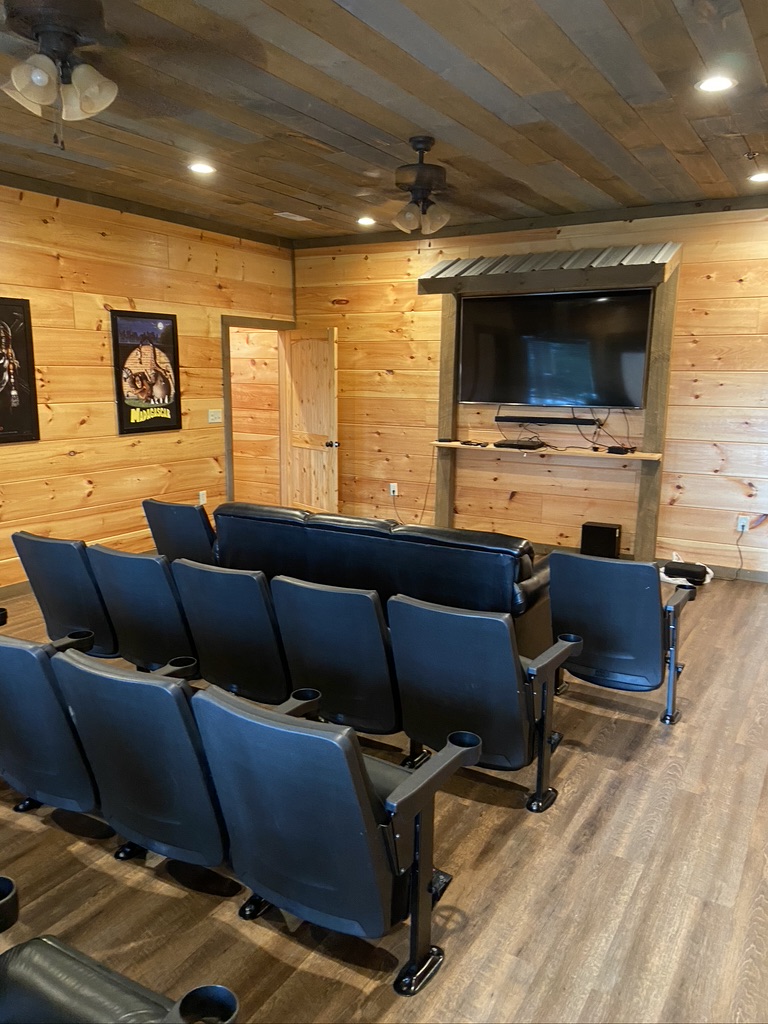 This trip we decided to do something different. We technically piggy-backed on my brother and sister-in-law's vacation to Tennessee. Specifically the Gatlinburg/Pigeon Forge area. This vacation was initially scheduled for April of last year, but due to COVID-19, it was re-scheduled. My wife and I wanted to go to Tennessee after hearing about it from my father and mother-in-law when they previously went a couple of years ago. I think they were on a cross-country tour and stopped in Gatlinburg and loved the area. I also have a co-worker that goes to the same area almost every year. All of us had been looking forward to this trip for a long-time. My family went to Disney World twice late last year, but the rest of my In-laws haven't been anywhere in the previous year.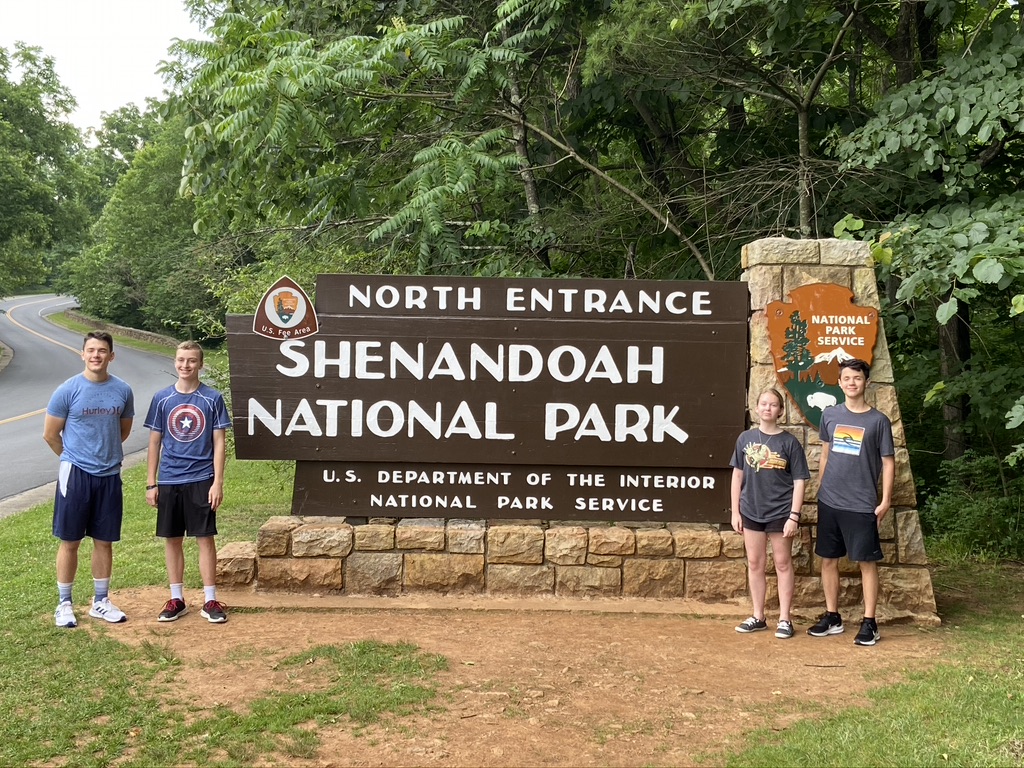 Laurie and I have booked two fabulous vacations for 2022, but this year is decidedly tame. Laurie is taking off in December of this year with her mother to celebrate some rather significant milestones in Disney World, and I have just had a vacation drop in my lap. I'm going to the Upper Peninsula of Michigan to go backpacking on the North Country Trail with the Boy Scouts in mid-August. Sadly my son will not be going with me as he is working for the recreational department for the township most of his summer. But I couldn't pass up the opportunity- I miss camping.
My wife, Laurie, is fearful of mountain roads (really fearful). So I wanted to take Skyline Drive in Virginia on our way to Gatlinburg, Tennessee. But my wife didn't want to go, so I took my two kids and my older sister-in-law, Juliann. My brother-in-law with his wife and two boys were in another car, and we caravaned with them the whole day. We would stop over in Roanoke, VA, for the night and then continue on another 4 hours to Gatlinburg, TN. the next day. The drive to Skyline Drive is 4 hours, then the Skyline drive took 3 hours approximately and the final leg was 2 hours. I remember it was a grand total of 10.5 hours in the car with all the stops we made. Skyline drive was a tremendous 105-mile drive through the scenic Shenandoah National Park in Virginia. We stopped half of dozen times for various things and for overlooks to take lots of pictures. The speed limit is 35mph with very little traffic even though it was a free day in the National Park (normally, it's $25 per carload). I figured the traffic would be outrageous, but I was wrong. The beginning of the drive and the end of the drive were more bicycles than cars. The middle part was the only section we ran into traffic. Yes, there were bicyclists on an ultra-narrow two-lane road that goes up huge hills. Crazy!
Laurie went we her parents in her dad's new Toyota Sienna minivan hybrid. They went a more direct route, but we all met up in Ronake, VA, to spend the night. Based on a recommendation from the hotel staff at Holiday Inn and Suites Civic Center in Roanoke, we went downtown to Macado's restaurant. The menu wasn't a typical dinner menu – it was full of sandwiches, but they were excellent. We all left full and thought it was well worth it. We collapsed from the long drive (I snored so loud my daughter was ready to take the blankets from her brother to sleep in the bathtub).
The following day we got up, had breakfast, and were on our way in a three-car caravan to a restaurant called Old Mill in Pigeon Forge. My brother-in-law, Mike, rented a huge cabin that sleeps up to 15 people but wasn't ready until 4 pm. It only took us 4 hours to drive to Pigeon Forge, so we had lots of time to kill before we could get in the cabin. We left Roanoke around 9 am and arrived at the restaurant around 1 pm. The restaurant didn't take reservations, so we knew we had a long wait. We put our names in, and we had to wait around an hour or so before they could accommodate 11 people. The restaurant was surrounded by all these touristy shops you could walk to, including a moonshine distillery, Old Forge, and many general stores, arts and crafts stores, and the like.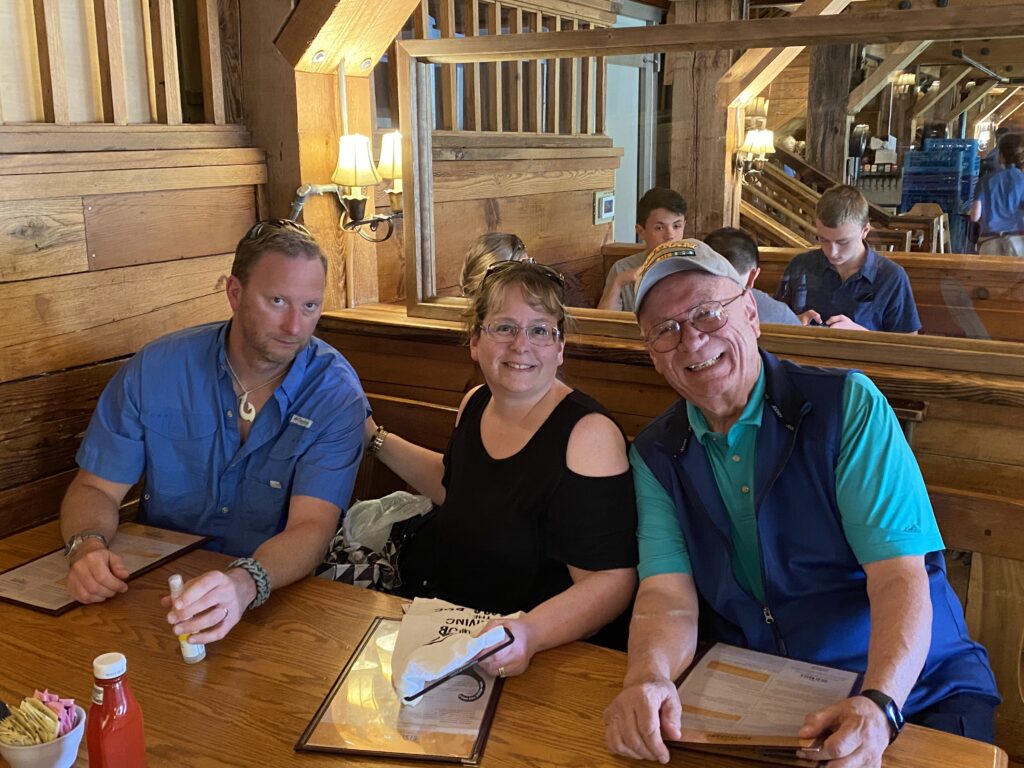 Linner (lunch/dinner) was a down-home meal for all of us. I knew exactly what I wanted even before I got there- country fried steak with white gravy on top. When I was growing up in Missouri, this truck stop served the same meal with eggs and hash browns and told the waitress to bury the whole plate in white gravy. I called it the rib-spreader special because too many of those dishes, you'd have a heart attack. Laurie can no longer eat anything fried, or she gets extremely sick, and everything at Old Mill was fried. She had biscuits and a blackberry cobbler, and my daughter, Julia, had a fruit plate. My son, Austin, had chicken and dumplings. We left Old Mill very full and rolled out onto the hot Tennessee asphalt and into various shops. We didn't stay but less than an hour when next up was the grocery store. We had to get some perishable foods, and of course, Mike and I had to get beer. By this time, it was time to head to the cabin. We rented a 3 story cabin from a site called Cabinsforyou.com. The Dankos got a text or email confirmation saying the cabin was ready. The road to get UP to the cabin was atrocious. It was a mile-long extreme upgrade road that was barely wide enough for two vehicles to pass each other. Laurie has become terrified of these roads and had to close her eyes.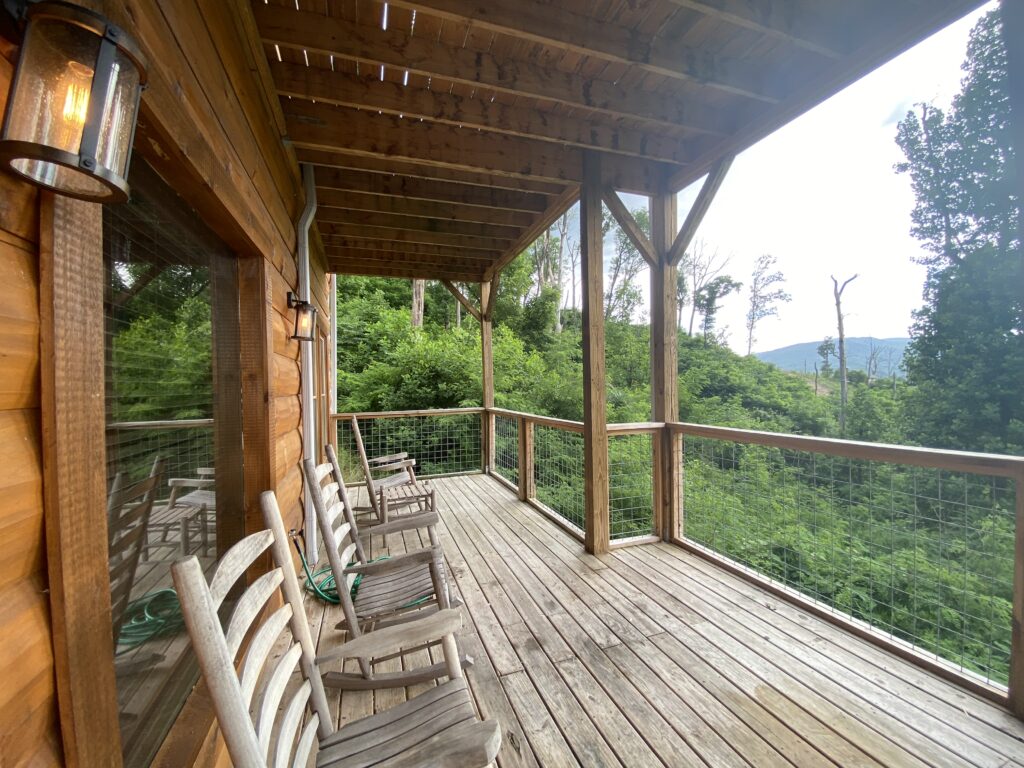 The place was beautiful and incredibly new. My only complaint was that we had neighbors. Other than that, everything was excellent. It was three floors: the basement had a home theater and a hot tub on the outside deck. The main floor had a huge kitchen, family area with a gigantic deck. The 2nd floor had a game room complete with a pool table, air hockey, and three arcade games. One additional tiny detail was more of a nuisance- tiny millipedes that found their way into the cabin – hundreds of them in the downstairs would appear in the morning and late at night. We eventually found them in the kitchen on the main floor and a few upstairs. We called the property management company, and they said there was nothing they can do about them. The girls were grossed out, but if that was the worst critter that made its way into the cabin it was ok by me.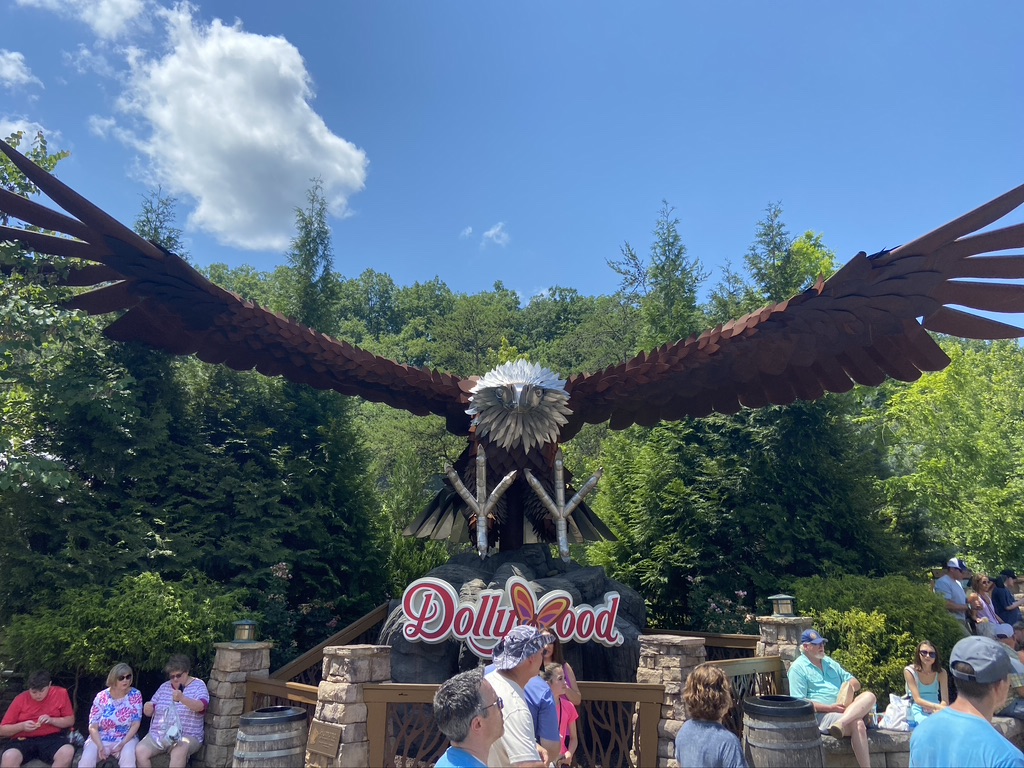 The next day was Monday, and we had tickets to Dollywood- an amusement park with some awesome rollercoasters. The Danko's and our kids love amusement parks, so we got there early before the park opened and enjoyed the first coaster, Lightning Rod. I won't go into nauseating detail about every ride we went on, but this one was amazing. It was a wooden coaster and as the ride went on it got faster until the end. It never went upside down, but it went sideways 3 or 4 times and gave you 20 seconds of hangtime. We all loved it. Another coaster was called Wild Eagle, and it was a winged coaster – amazingly fun. We didn't stay until the park closed at 7 pm- it was just too hot. It reached 90 degrees, I think and the sun bearing down on you for four straight hours until we had a break for lunch was enough to do most of us in. We left around dinnertime and wound up going back to the cabin to crash.
Tuesday was supposed to be a washout with rain, but only part of the day was rainy. We all went into Gatlinburg to park at one end and then walk the entire "strip" with all of these shops and restaurants. There were 3 more distilleries and plenty of wine tasting. Sugarlands Distilleries had a $5 moonshine tasting that Juliann and myself couldn't pass up. They had pre-selected flavors that they would serve in thimble-sized cups- 12 in total with two bonus shots. We were buzzed after 14 "shots" of moonshine ranging from 40 proof to 80 proof at 9:45 am. Now "moonshine" is defined as being: produced outside a registered distillery to avoid taxes and gets its name from people making it in their stills at night to avoid detection. Obviously, wherever the actual distilleries are located, they are registered with the state of Tennessee because in Gatlinburg, they had storefronts. But the flavors were amazing. We didn't buy any because they only sold the moonshine in mason jars for $25. Juliann and I were looking for small bottles that we could keep but also give out as gifts. We eventually found a liquor store at the other end of the "strip" where they sold small bottles for $5. We had to get back around mid-afternoon. Laurie and I had reservations at the Titanic Museum at 4:30 pm. The museum was about 30 minutes away, so we left early because the traffic around the whole area was horrible. I've been in horrible traffic before (I live in New Jersey-hello!), but this was major pain-in-the-ass traffic (not quite as bad as Boston). After a cool experience at the museum, I found an excellent restaurant out of the touristy area of Pigeon Forge and Gatlinburg that served authentic, simple food in Sevierville, TN. called Holstens's Kitchen. It was perfect, I had ribs, and the wife had chicken marsala.
Wednesday was the big day where the three boys, myself, Mike, and Juliann, were doing a 10.6-mile hike through Smokey Mountain National Forest. The Alum Cave bluff hike was an out and back trail that ascended more than 3500 hundred feet. I believe we started at an elevation around 3000 feet, then went up to 6500 hundred feet. So for flat-landers that are used to sea-level oxygen, it was a bit of adjustment when hiking upwards to that elevation. Not to say we didn't finish it or that we had to stop every 5 minutes, but everybody was huffing and puffing at a lot of points during the hike. My sister-in-law, Juliann, has the worst lungs but she also made it to the top. The views were well worth all the sweat and trouble. Like most serious hikers, we left the cabin at 6 am, got at the trailhead around 6:30 ish and reached the summit of Mt. Leconte around 9:45 am. On the way back down, as we descended, we saw hundreds of people just starting out wearing flip flops and sneakers and all kinds of crap that didn't help them get anywhere near the top of the mountain. You don't want to start at 10 or 11 am then hike during the hottest part of the day. In total, it took us shy of 6 hours to complete the hike. Afterward, we walked the strip in Gatlinburg again. At the end of the day, I had walked just under 35,000 steps. Needless to say, I soaked in the hot tub that night.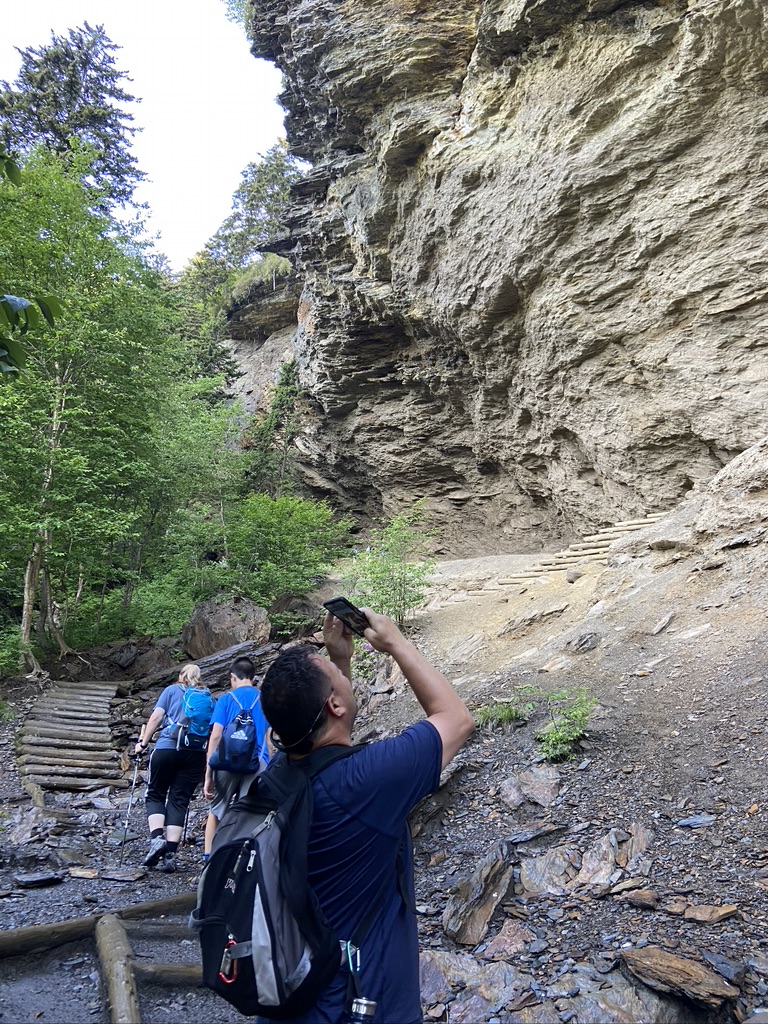 Thursday morning, we finished packing up the kitchen and all of our stuff and headed out of town around 9:40ish. The other two cars had to get gas, I had enough to get pretty far, so I decided to head straight out of town. Unbelievably we got stuck in Dollywood traffic going to the amusement park, and one lane shut down for construction. That set us back 45 minutes. We didn't reach the interstate until 10:25 am. We decided to drive through West Virginia and take the scenic route on the way to my wife's old college in Elkins, WV. Davis & Elkins is a liberal arts college in the middle of Appalachia. We stopped for a short time and took a handful of pictures, and then headed to Morgantown, WV, where we had the coziest bed waiting for us. From downtown Morgantown, it took us another 6 or so hours to get home. In total, I drove over just over 1700 hundred miles. I'm so glad we rented a car. We drove a 2020 Ford Explorer. We liked it, ok, but we would never buy one.
Looking back, we all had a really great time. Despite the millipedes, the kids being sick, and the horrible traffic. In case you weren't sure, being around ten other people for that amount of time is not easy. However, no one was fighting, and we all got along very well. I don't think I would ever go back to that area but, Tennessee was beautiful. Next up, maybe, Memphis. The wife wanted to go to Graceland, but it was 6 hours west of Pigeon Forge, TN.