This post is a little different as I took a trip to Michigan's Upper Peninsula without my family. As you may or may not know, my son Austin has been a member of the Boy Scouts since he was eligible when he turned 11 years old. Before that, he was a Cub Scout since he was 5 or 6. His mother and I have always been pretty heavily involved one way or another with the Scouting organization. My son, Austin, had recently finished his Eagle Scout project several weekends ago and is well on his way to finishing his time with the scouts.
My son's troop that he belongs to has a separate patrol called the Venture Patrol and is made up of older scouts that have achieved the rank of Star and are at least 14 years of age. The leader of the Venture Patrol is a gentleman named Tom, who had recently invited me on one of the Venture Patrol trips backpacking to Michigan. I initially said 'no, but he asked me a second time, and I thought it might be a lot of fun. I have missed going camping, and I needed to take more time off work this year before I lose vacation time after the new year rolls over.
Austin got a job with the Recreation Department with the Township for the summer, so he couldn't go with me on this trip, but I made sure I asked him if he didn't mind if I went with the Venture Patrol. My wife, Laurie, wasn't too thrilled, but she said 'yes' as the week I was going, there were a ton of doctor appointments.
So on August 14 at 3 am, 4 adults and 7 kids took off in three cars for the Upper Peninsula of Michigan along Lake Superior. The plan was to drive about 15 hours to Sault Saint Marie, Michigan, to spend the night in a hotel. The following day, we drove to our finishing point for the hike- Au Sable visitors center. We parked our cars; then were picked up in a shuttle around 9:30 am, which took us to the starting point on our hike. We started our hike in Munising Falls, Michigan, where we had mobile phone reception for a couple of miles, then we were out of phone range for 4 days. At Au Sable visitors center we were greeted by a young female Park RangerDay and 1 of the hike was a little difficult because there was no potable water at our campground for that night. So we took as much water as we could carry for the first day to drink and prepare our meals. From the second day on, we had access to Lake Superior, and various points along the trail were potable water. However, most of the time, we filtered our water from the Lake, and after a long and grueling day of hiking, we could take a swim every night- it was glorious. I must say for most people, they would've freaked because even in mid to late August, the water temperature was around 60-65 degrees. The water temperature was therapy for your muscles. Days 4 and 5, we walked 8 and 8.8 miles, respectively. Our total hike was approximately 42 miles, but we had a slight detour along the way, and walking back and forth to the Lake numerous times, I know we hiked 50 miles- easy.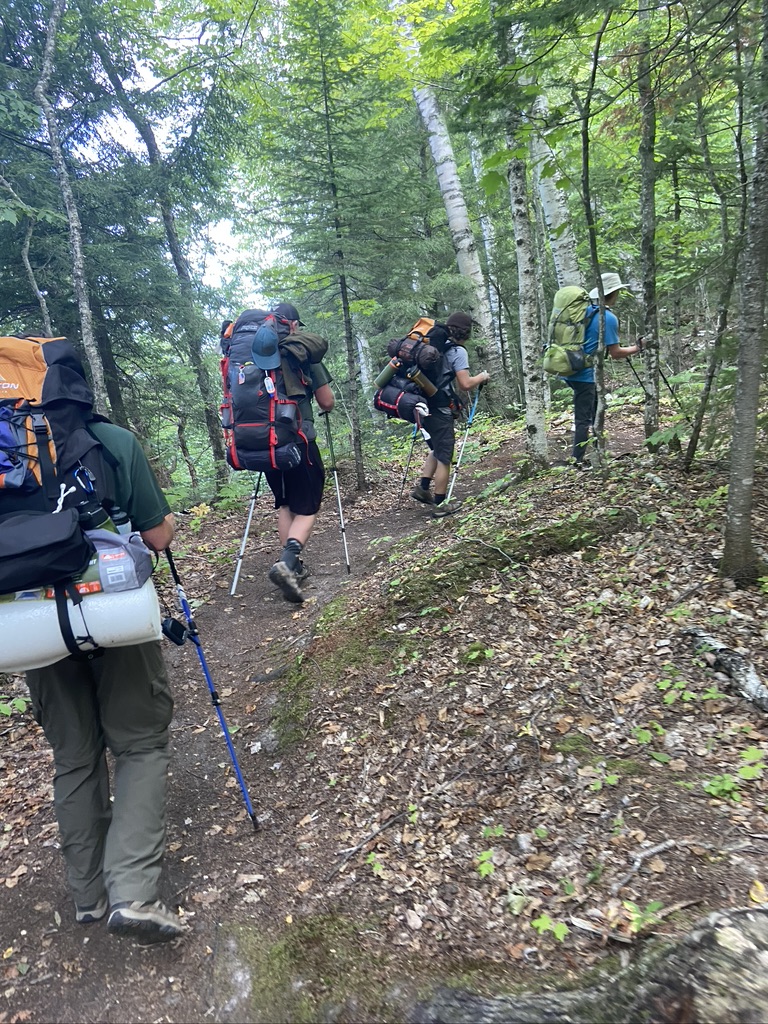 Day 2 and 3 had spectacular views of the Lake, and we stopped almost every time to take pictures. The Lake was crystal clear, and the hue of the water from above had the same hue as the Caribbean waters. (See for yourself below). I left out a rather important detail: the part of the trail we hiked was called the North Country Trail and went through 6 states. While everyone talks about the AT, Appalachian Trail, or even the PCT- Pacific Crest Trail, this trail along Lake Superior was inside a National Park called Pictured Rocks Lakeshore. We saw lots of boat traffic along the shore for days 2,3, and even into day 4. The trail for most of the hike hugged right along the lakeshore with some steep dropoffs. All of us were hiking with 35 to 50-pound backpacks, and if it weren't for the trekking poles we ALL had, it would've been challenging. The wife and I hadn't budgeted this trip for this year, so instead of buying a $120 pair of trekking poles, I opted for something I found on Amazon from a family-owned company Hiker Hunger. I have to say they were terrific and sturdy the whole trip. I will not hike again without them.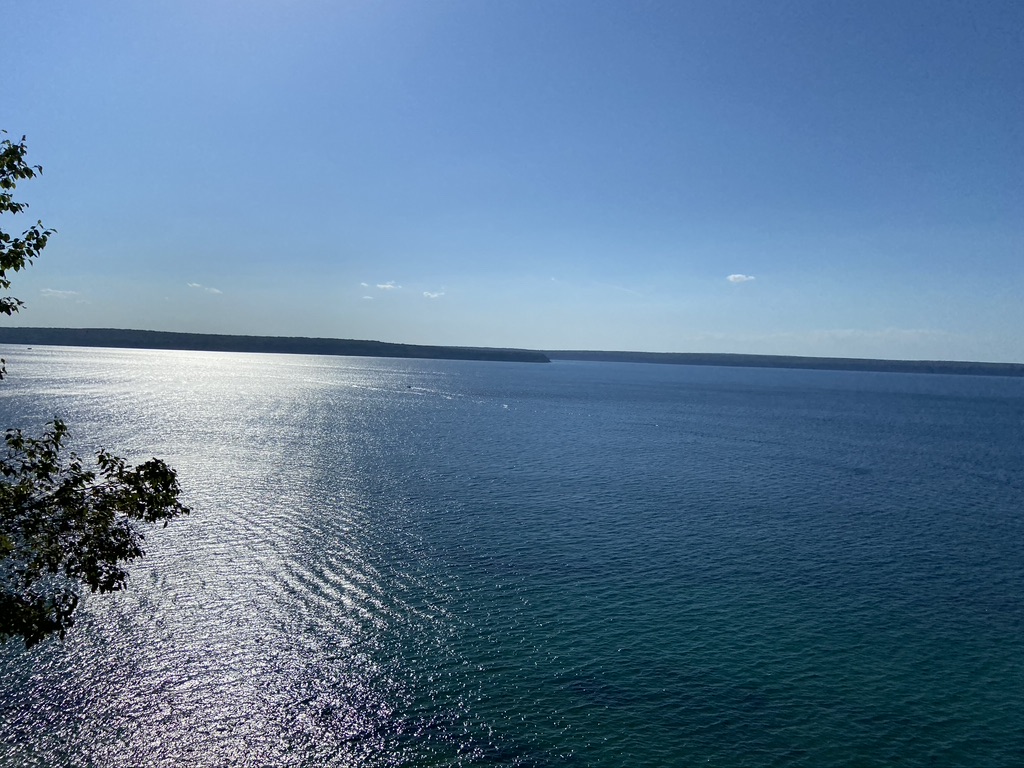 I felt very blessed to have been able to go on this trip. It was amazing. We encountered so many other backpackers that were very friendly. We even struck up a conversation with a nice young couple one night when we went swimming in the Lake. They were from Detroit and came up that way often. Most of the trip went uneventful except for a couple of minor snafus. One was a trip up a hill through an angry hornet's nest. Most of us got stung but thank god no one was allergic to stings. And we never encountered any black bears either. A bear was spotted at the campground that we were headed to the following day, but we never saw it. On the last day we hiked out of the tall grass into the parking lot where we left our cars; we were all ecstatic.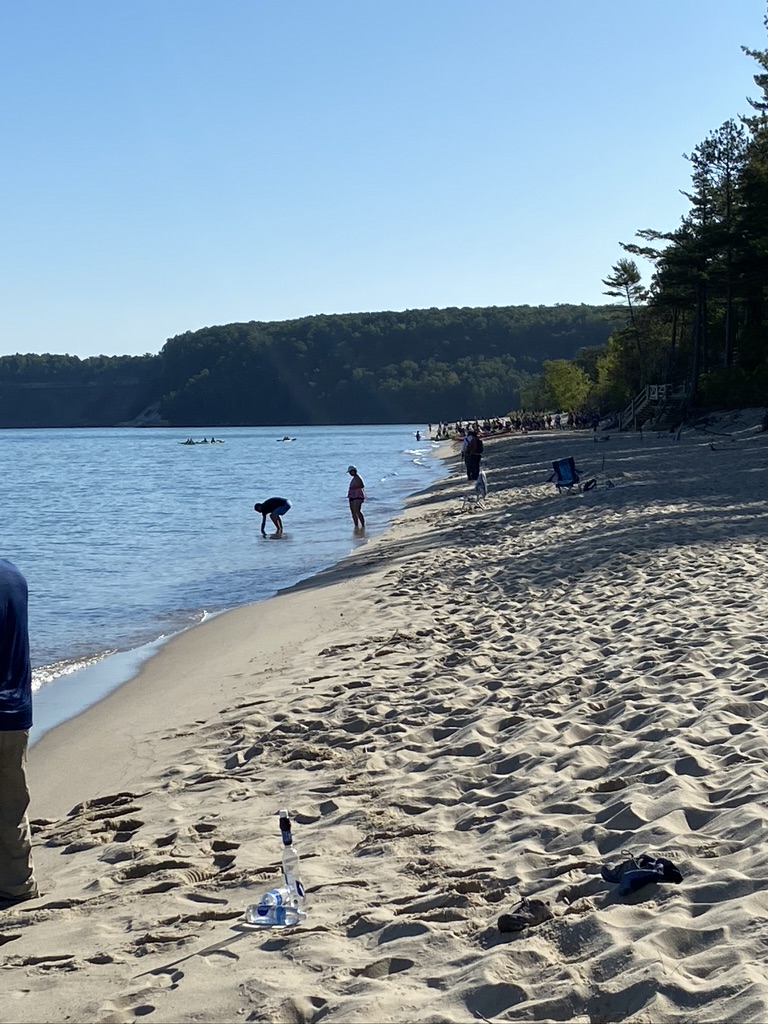 One younger scout was with his dad on the trip, which Tom made an exception for. His dad, Scott, was an experienced backpacker, and his son, Max, just started Scouts. Max was a trooper and hiked the entire way. We were all so proud of him, especially his dad. At the end of the hike, Tom had him sworn in at the visitors center by the Park Ranger as a Junior Ranger.
We drove off the Upper Peninsula to the foot of the Mackinaw Bridge to a place called Wienerlicious. It was a dinky little hot dog place that the kids were excited to get back to. One the way up, we stopped for lunch, and most of the kids loved it. So we decided we'd pay another visit. After Wienerlicious, we drove another 1.5 hours to our hotel in Gaylord, Michigan. We had reservations at Buck Brewery, a country place with live music and antlers for decorations for dinner. It was a rather cool place, and we had steaks with beer. It was definitely a celebratory dinner. It capped off a hard-earned week of hiking.