As I stated in my previous post, my wife and I were anxious to leave town for a couple of days. I have a week off in July but didn't want to wait that long, especially since I had three days off two weeks in a row in June. So after work on Wednesday, we took off to Atlantic City where our hotel was. We stayed in an old historic hotel called the Claridge. It has seen the likes of Frank Sinatra, Marilyn Monroe, and several famous gangsters of the early 20th century. I believe the Claridge was the only hotel open until July 2nd when all the other casinos open. We had stayed there one additional time and enjoyed it. I have to say I really wanted to stay in Cape May, but we just DIDN'T want to afford it. We stayed in Atlantic City for two nights for half the price of one night in Cape May at Congress Hall. I asked my wife if there was another hotel/motel in Cape May, and she said none that she wanted to stay at. It's summer here, so all of the places are charging much higher rates than they do the rest of the year.
Harry's Oyster Bar
We got to Atlantic City just before dinner time, and with everything else closed and nothing to do and Cape May around 45 minutes away, we decided to walk the boardwalk in search of food. There were all sorts of local pizza joints, greek, and Mexican food available. We wanted a sit-down place when we came upon Rainforest Cafe my wife wanted to go in. The front entrance was very chaotic, and people were standing around, and I wasn't sure what the heck was going on. Do you walk in the front entrance, or was that just for the gift shop? There was an outdoor seating area, but the employee who was there kept disappearing. So we decided to leave. On the walk down to Rainforest Cafe, we saw Harry's Oyster Bar. We had eaten there before, and I remembered eating there with some close friends when they came out to Jersey several years ago. It was delicious but could get a little pricey, mainly because it was seafood. Even on the Jersey Shore, seafood can be expensive. The only place on the East coast I've been to where seafood wasn't expensive was a seasonal place right on the water Long Island, New York.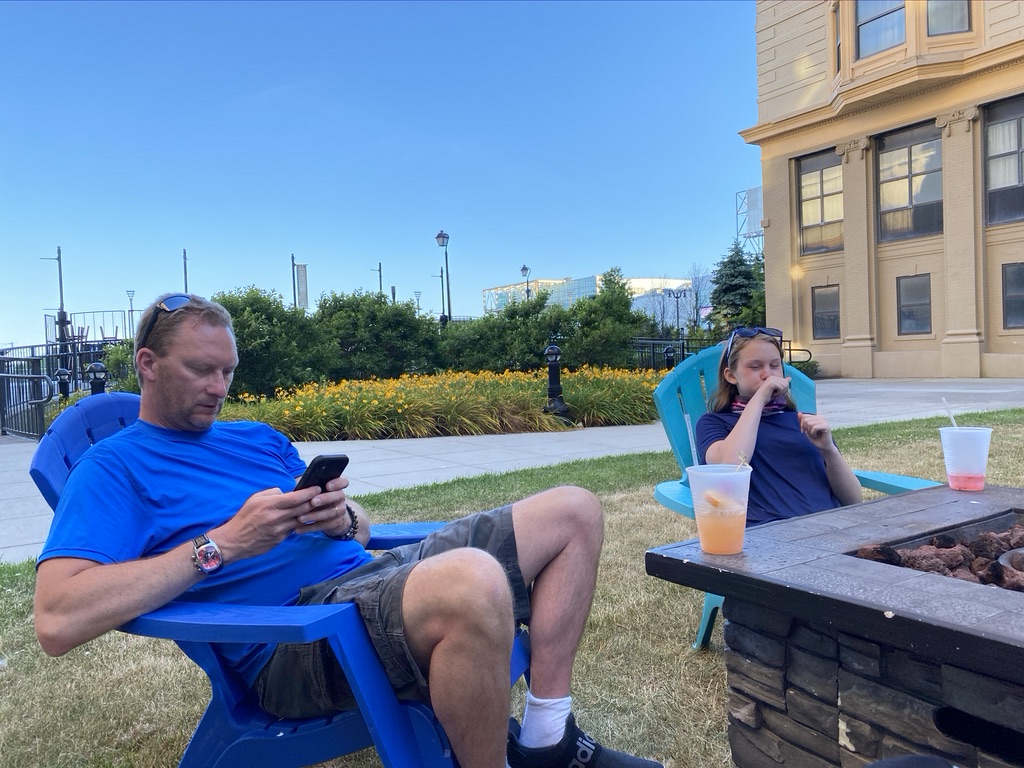 I had a local take me there, and it was the opposite of fancy, but the owner caught all the seafood that day. When we got to the hostess at Harry's, she asked us if we had reservations. We didn't and weren't able to get seated for an hour, which put us at 7:15 pm. However, she convinced us to sit in the Adirondack chairs by the stage where a two-man band played 70's and 80's hits. They were quite good, and we decided to wait. I got us all drinks: the kids had Shirley Temple's, my wife a water, and I had a Bahama Mama. At Harry's, the servers are all wearing masks and gloves while the seating is outdoors; you don't have to wear a mask, obviously while you're eating. Currently, in New Jersey, eating at indoor restaurants is prohibited due to COVID-19. All the tables were 6- foot distance, and the menus were disposable. I ordered another Bahama Mama with dinner, and I was feeling relaxed. In case you never knew the ingredients in it, a Bahama Mama has 151 proof rum in it, along with several other rums (and there are several different recipes). It's a good time for sure. It wasn't a strong as the homemade one I had on a local beach in Nassau, but it did the trick.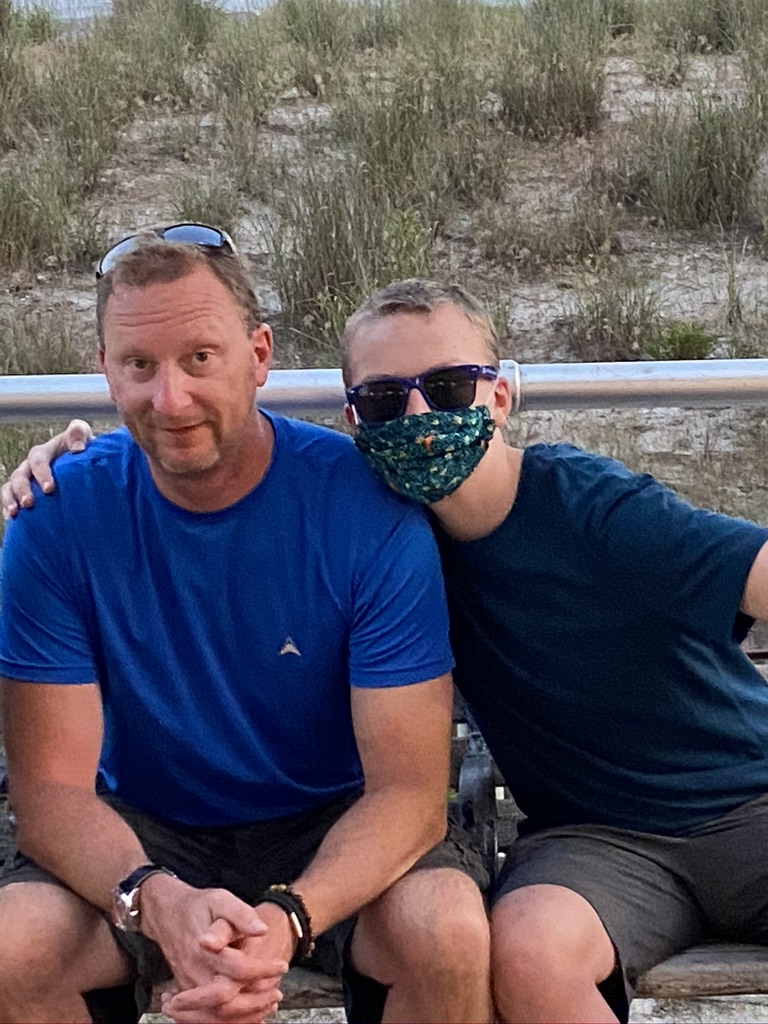 Uncle Bill's Pancake House
After sleeping in a little we headed out to Cape May. We decided to eat breakfast at Uncle Bill's Pancake House which we had eaten there before, but my wife decided to try it again. We got there at about 9:30 or 10 am. and only waited 5 minutes or less. They had fashioned part of their already cramped parking lot out of an outdoor eating area under a huge pop-up tent. It is a typical waffle house, nothing special, but very good for what it is and at a great price. We parked on the street, right in front of Uncle Bill's. It was an ideal location right on Beach Boulevard but it was metered, so I had to keep an eye on it every couple of hours. After breakfast, we decided we would try and rent bicycles to pedal around town. We decided to walk Washington Street Mall but happened upon a bike shop that was closer than the one we had called sitting at breakfast. It was Congress Hall's bike shop. Funny enough, it didn't have any single bikes available to rent, and my wife wanted to rent a 4-person bike/surrey anyway. So that is what we got. After an hour we were pooped which turned out to be great because that's all they would allow you to rent them for. We had a map, and it guided you on which streets were safe and which roads you should avoid. We pedaled all-around town, even stopping to buy some kettle corn.
Afterward, we walked up and down the Washington Street Mall. It's a pedestrian street lined with local shops of all kinds. It was getting on to be lunch, and we decided on a place called the Mad Batter, which is attached to the Carroll Villa Hotel. It also had outdoor dining but on a screened-in porch. I had a delicious blackened fish sandwich, and my wife had a turkey sandwich with raspberry jelly, brie, sprouts, and seasoned cream cheese. According to my wife, it was incredible. We walked back to the truck and headed out of town to see the Cape May lighthouse. It was getting ready to rain, and we didn't want to get caught walking in it. My son and I got out and took a few pictures, but the girls didn't want to go to the top, plus it was $10 bucks a person. We retired early after walking on the boardwalk in Atlantic City to find food, nothing exciting we just ate a couple of slices of pizza. The next day my wife asked me to go back to Uncle Bill's in Cape May, so I thought, "why not." I had the entire day off, and we didn't have any plans. We drove 45 minutes south to Cape May and ate breakfast at Uncle Bill's then headed back north to go home. Besides, there weren't any breakfast places to eat in Atlantic City. We mainly went to Cape May/Atlantic City to get away and not have to cook and clean for two days. It may sound silly to some, but it's the reality for us right now.
Overall it was a success, I got to catch up on some sleep and everyone got some together time.