So my wife and I are feeling a little anxious, and we finally booked a getaway trip to Cape May the other day. Since several plans fell through this year and we've resigned ourselves to staying local and just hanging out in the backyard. Those of you that have ever been to Cape May will understand the absolute charm the town has. My wife and I took the kids to Cape May winter before last. We stayed at Congress Hall. It's the oldest seaside resort hotel in the United States. Built originally in 1816 https://www.caperesorts.com/congress-hall then burnt down in 1878 when a massive fire destroyed 38 acres of seafront property in Cape May. Within a year, the hotel had been rebuilt with stone instead of wood. It became a popular destination with Presidents, including Benjamin Harrison, who conducted his state of affairs from the hotel.
The town is quite charming and an excellent walking town. The Victorian houses along the center in the city have been beautifully restored and gleaming with character. One of my favorite things to do is so basic and yet very simple; to walk around cities and towns to absorb their personality and their people. Some of my favorite walking cities come to mind: Key West, Paris, Copenhagen, and Philadelphia. In case you didn't notice by the list of cities I like diversity. Each town has it's own charms and annoyances, but mostly I love people watching, and each of the cities offers its own character. While Paris is my favorite city it is so large that the last tour we took in August made my head spin. There are so many districts or arrondissements, each having its distinct eateries, shops, and art. Key West is one colossal walking outdoor party. Walking from bar to bar. The only place you can see trams, trolleys, trains, mopeds, cars, trucks, bicycles, pedestrians and list goes on all on extremely narrow streets. Copenhagen is quintessential Europe, with it's colorful decorated narrow buildings and cobblestone streets with tourists. Philadelphia has a gritty East Coast feel but is very walkable and not a cavernous goliath like New York. I love Philadelphia because there's history around every corner, and the sidewalks introduce themselves like old friends I haven't met yet.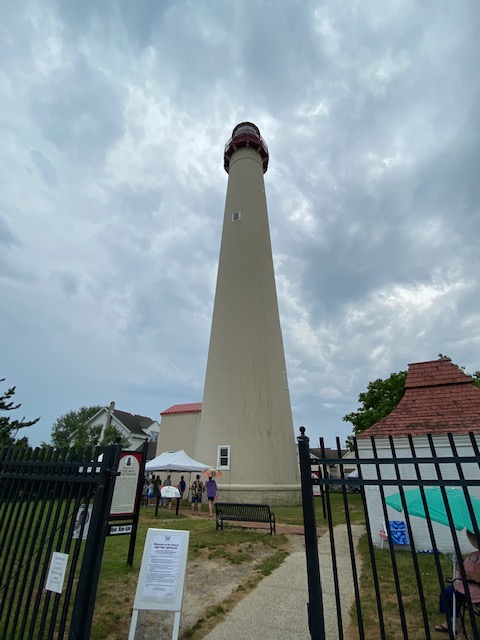 Cape May is different, though, quiet (depending on what time of year), very friendly, windy, and very compact. To me, the centerpiece of the town is Congress Hall hotel. It's massive, AND it's yellow. When you walk its halls, you can feel the history. The front desk gives you an actual brass key. The hallway creaks as you walk periodically, and the immense detail that went into each room. I felt very drawn to this place for some reason and can't wait to go back. What are your favorite cities? Let me know in the comments.