The second part of our European trip was a lot of shuffling between trains and automobiles." We disembarked the Disney Magic in Dover, England. We weren't 100% sure how we were getting to Disneyland Paris. We knew we were taking the Eurostar train from Ashford train station to Disneyland Paris, but not sure how we were getting to Ashford. We had the option of taking a train or taking a taxi. My wife opted for a taxi, but when we told him where we needed to go he told us the highway to Ashford was being re-paved and was really not an option. So be it, we took the 10-minute taxi drive to the local train station in Dover, England, and promptly boarded the next train to Ashford.
In a previous post, I wrote the best way to travel is to pack light. I also said do as I say, not as I do. We had four of us with four large suitcases all on wheels that swivel. They are easy to maneuver, but for my 12-year old daughter, she struggled a little, especially over gaps and bumps. The train to Ashford from Dover was especially cramped with four large suitcases. There were luggage racks at the end of the coaches and were very small- not built for full-size bags. So we kept the bags with us, and they wound up sticking out in the aisle.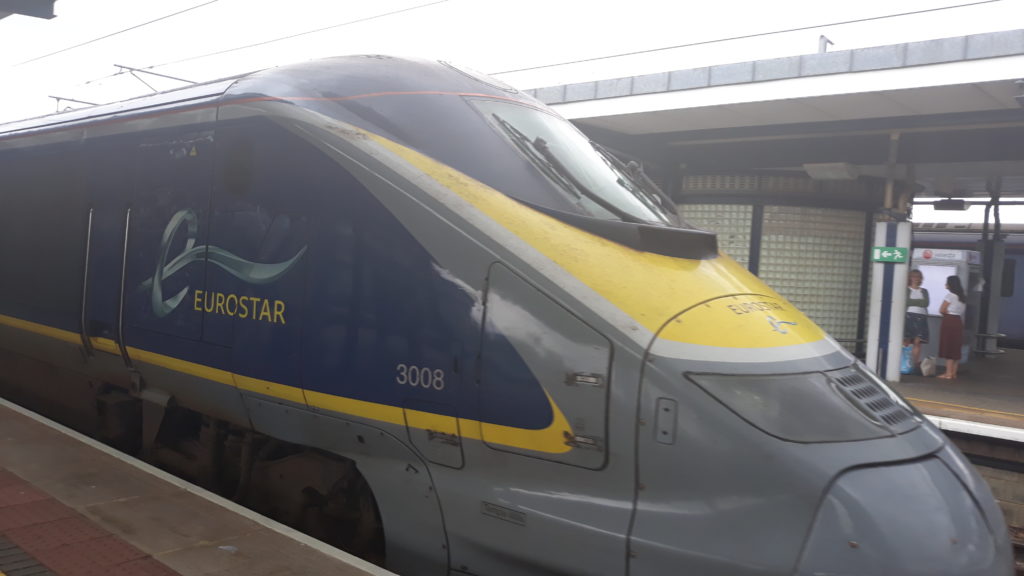 Between getting off the ship very early Sunday morning, then taking a speedy train into Ashford, we arrived at the security gate before the security checkpoint was open. We waited maybe 15 minutes and then was able to proceed through. It was not as strict as airline security; however, the bags were sent through an x-ray, and we went through a metal detector, which, if memory serves me correct, we didn't have to go through in 2005 when we were last on this train. The security personnel was amicable and talkative. In the lounge area was plenty of seating, a children's play area, and two places to get food and coffee. Of course, I got coffee, and the interesting part was they served it in a real coffee mug, not a disposable cup. On a side note, I kept noticing printed on the tickets; the train ride was a three-hour ride, thinking that was a little long. I opted for the upgraded seats on the Eurostar train that comes with a meal. The seats were comfy, and there was plenty of room to stretch out my legs. When I booked the tickets online, there was an option to put special meal requests, and I put in my son had peanut allergies. However, when the server came around to deliver food, they only had special diet options for Kosher and vegetarian. Fortunately, we always pack snacks, so my son, Austin, had enough to eat on the way. Two hours into the ride, the train started slowing down, and I noticed there was another hour to go but suddenly realized we were pulling into Chessy- Marne station at Disneyland Paris. It finally dawned on me that we had crossed time zones. On an airplane, they always announce the local time. On this train, there was no announcement at all.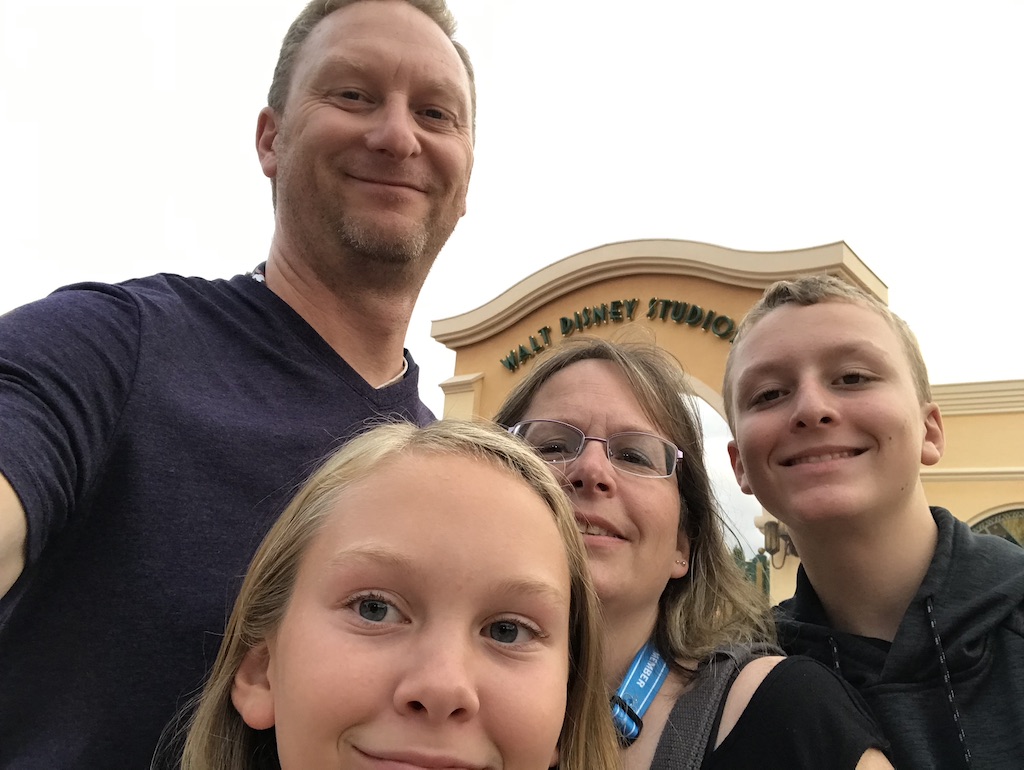 Once we got off the train, we had no idea how to get to our hotel. We could see it, but couldn't figure out how to get to it, which I know sounds silly. We walked around a little with suitcases in tow until we finally decided the only possible way was through the main entrance into Disneyland past security. When we asked security how do we get to the Disneyland Hotel, it took three of them to figure out what we were asking. It was an obvious language problem. Once they understood, they radioed to the hotel to make sure we were guests there. We sent our bags through the x-ray machine, which just barely fit, and we were through security on our way to our hotel……finally.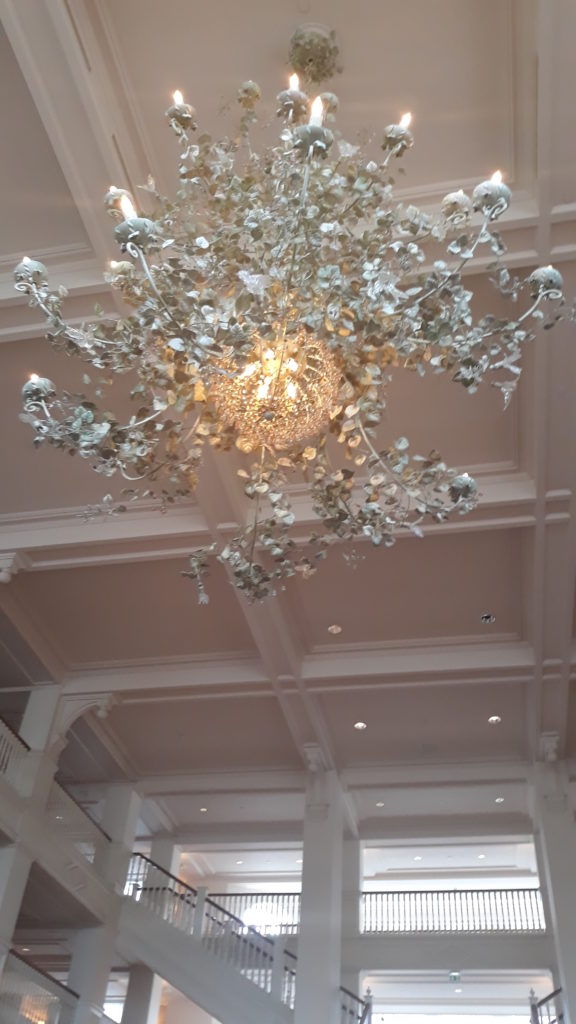 The Disneyland Hotel is the most elegant hotel on the property. The outside is themed like a castle as well as the inside. The most amazing feature is that when you walk outside the hotel it is directly in front of the gates to Disneyland. Of course, you get access to the park an hour earlier than general admission. Which was a huge advantage on Monday when we went to the park. Anyway, when we first get there we met a fantastic employee at the concierge desk. He was able to answer all of our many questions and finally directed us to the main ticket booth in Disneyland. My wife wound up saving us over $300 by buying an annual pass for herself and then purchasing single-day tickets for the rest of us for each day. It worked for us. I cannot recommend this for everyone; however, if you're planning a trip to Disneyland Paris, I would look into it, it may save you hundreds. By the time we finished at the ticket counter, we still had part of the afternoon and that night to stay in the park if we wanted. The experience was surreal. The kids and I had never been to any Disneyland. My wife had been to Disneyland in California 20 plus years ago. To be at Disneyland but to be in a different country was strange and exciting at the same time. Main Street U.S.A was roughly the same but, the castle was all pink and a little bit smaller than Disney World. We did not stay late, we usually never do, but would have all of Monday in the park.  
Monday morning, we got up and had a fantastic breakfast buffet at our hotel. It was rather expensive but well worth it. They had a vast selection of breadt, pastries, and even more croissants. I kept noticing on our trip throughout Denmark, and especially France, they stayed away from plastic as much as they possibly could. The containers for the honey and jams and jellies were in tiny glass jars.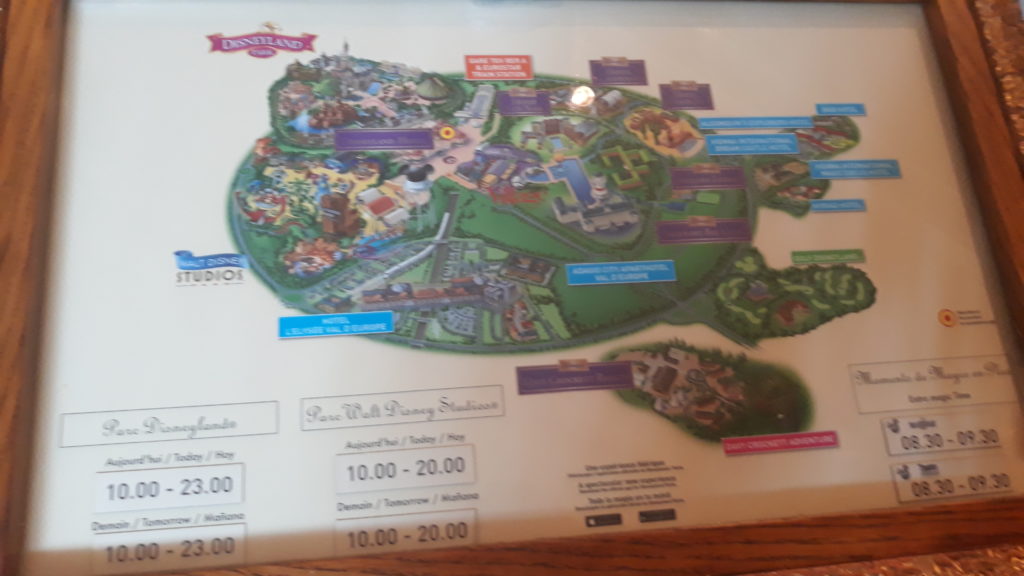 Inside the park, Disneyland Paris had its equivalent of Epcot's Food and Wine Festival going on. My wife was all excited. The event was called Le Rendez-vous Gourmand but was on a much smaller scale than Epcot's. France had 4 or 5 chalets or pavilions, and there were only a total of 12 themed chalets. We ate at several of the kiosks for lunch. I don't remember which ones we ate at, but I remember that we were full after three stops. This park had a cool ride that none of the other Disneyland Parks have called Crush's Coaster. (https://www.youtube.com/watch?v=pNTbhPoABQA ). I rode it on a completely empty stomach, and my reward was almost throwing up after the ride was over. It spun you around while going along the tracks in what was mostly a dark ride. I haven't been that sick since I don't know when. Fortunately, nausea quickly passed, and I was able to ride other rides that day. The kids and my wife loved that ride. I highly recommend- just not on an empty stomach.  
Although the hotel was beautiful, we did have one rather annoying problem. After the second use on the first day, the toilet would not stop running. I lifted the lid of the tank and did not recognize any parts that I could move or tweak, so I called down to the front desk. After several minutes of no one answering the phone, we let the front desk know on our way back out to the parks. We came back from the parks, and the toilet was still running. I called down again, and this time the front desk picked up and told them that this needs to be fixed before we go to sleep for the night. They finally sent someone to fix it when we went out for the evening. The next day it did the same thing. We told the front desk, and again, it took them a while to fix it. Overall it was an incredible experience at the hotel and the Park. I know we didn't see everything inside Disneyland, but we were getting tired from the long vacation- two full weeks.
Tuesday was our day to tour Paris, and then we were leaving for home on Wednesday. I know the kids at this point were ready to go back home. My daughter loves her routines, and vacations are routine disruptors. I wouldn't change anything about this trip if I had to do it over again, but I don't think we'll be taking any two-week vacations anytime soon. While my wife is extremely nervous about going into Paris, this was going to be my favorite part of the trip.
I will post the Paris part of the trip very shortly and will include lots of pictures. Until then, may your vacations be filled with wonderful memories.