My wife and I were seeking some normalcy in a world spun out of control. But I wasn't sure we would get it in my wife's happy place, Walt Disney World, where there were strict guidelines in place and caps on how many guests could enter the parks. At least we were leaving New Jersey for a while, and I think that's what we all needed. As I've mentioned in previous posts, I traveled to Australia in February before the coronavirus spread everywhere, but my wife was housebound from late February on till May or June. She has a compromised immune system, so she has to be very careful. In a typical year, we travel 2 to 3 times out of state. In a disaster of a year, the only trip we took this summer was down to Cape May, NJ.
There definitely was a different vibe to Disney World
We were set to go twice in 2020, during Halloween and a second time just before Christmas. My wife wanted to see it decorated for Christmas, including gingerbread houses and all the beautiful Christmas trees. Unfortunately, due to social distancing, Disney decided to cancel the gingerbread houses and all of the parties for both Halloween and Christmas including the Disney Vacation Club (DVC) parties.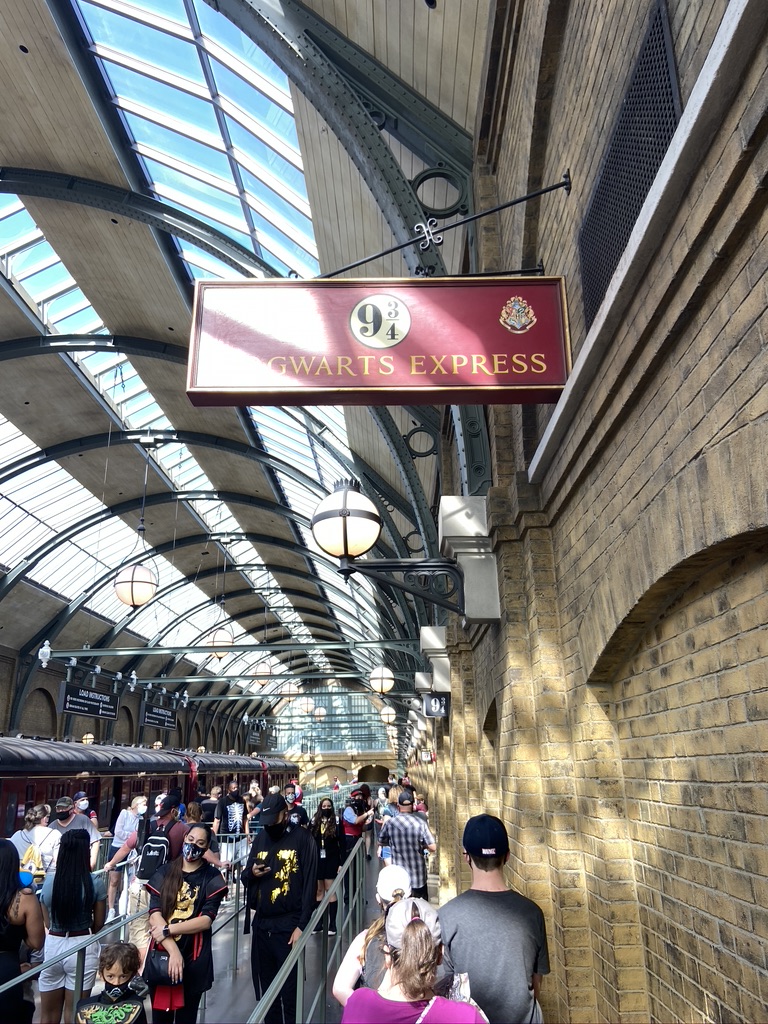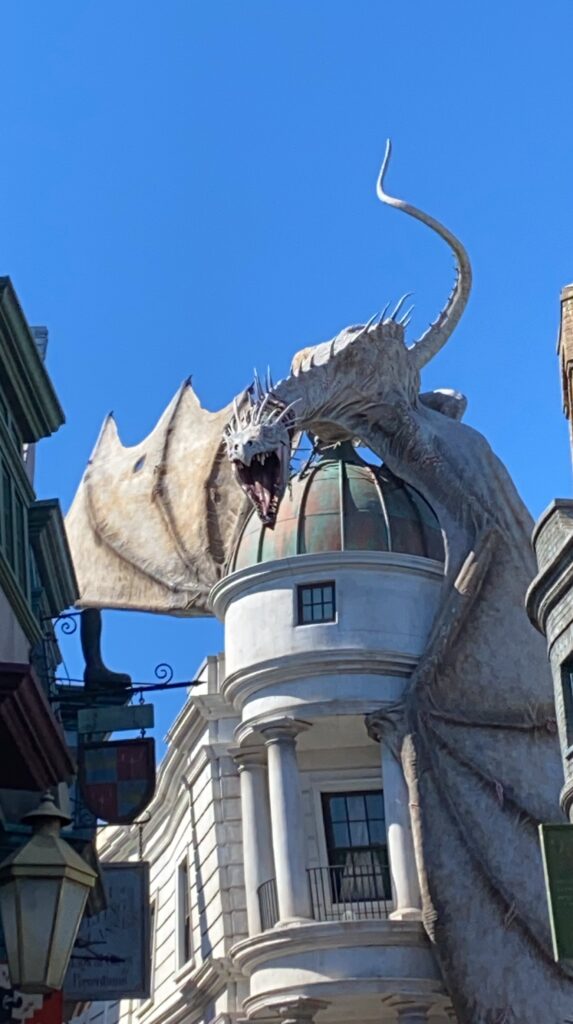 Our kids had the first week of November off for a teacher's convention starting just before Halloween. So the first trip, the kids would miss no school days, and on the second trip, they were missing two days, but they were remote days. Quick explanation: In New Jersey, during the pandemic, our kids were going to school Tuesdays, Thursdays, and every other Friday. The rest of the time was remote learning. On a side note, most parents don't give a damn if their kids miss school days, but we do. Our kids are both in accelerated programs such as honors and A.P., and it's challenging to make up lost days- especially this school year.
As for me, I'm not allowed to request vacation time for the holidays because I work in retail. However, this year at the behest of my wife, I asked to take off 6 days in a row during two weeks in early December. My immediate boss and the head of H.R. said 'yes.' Everything just kinda fell into place. Since I started working in retail in late 2008, we have never been able to vacation for the holidays.
Disney was limiting the parks to 25% capacity
On our first trip, we arrived at Kidani Village at Animal Kingdom Lodge just after dinnertime on a balmy Florida night. We had groceries delivered to our room via DIZZY DOLPHIN, a company that goes grocery shopping for you and delivers to your resort. We've used Dizzy Dolphin many times, never had a problem, and had impeccable customer service.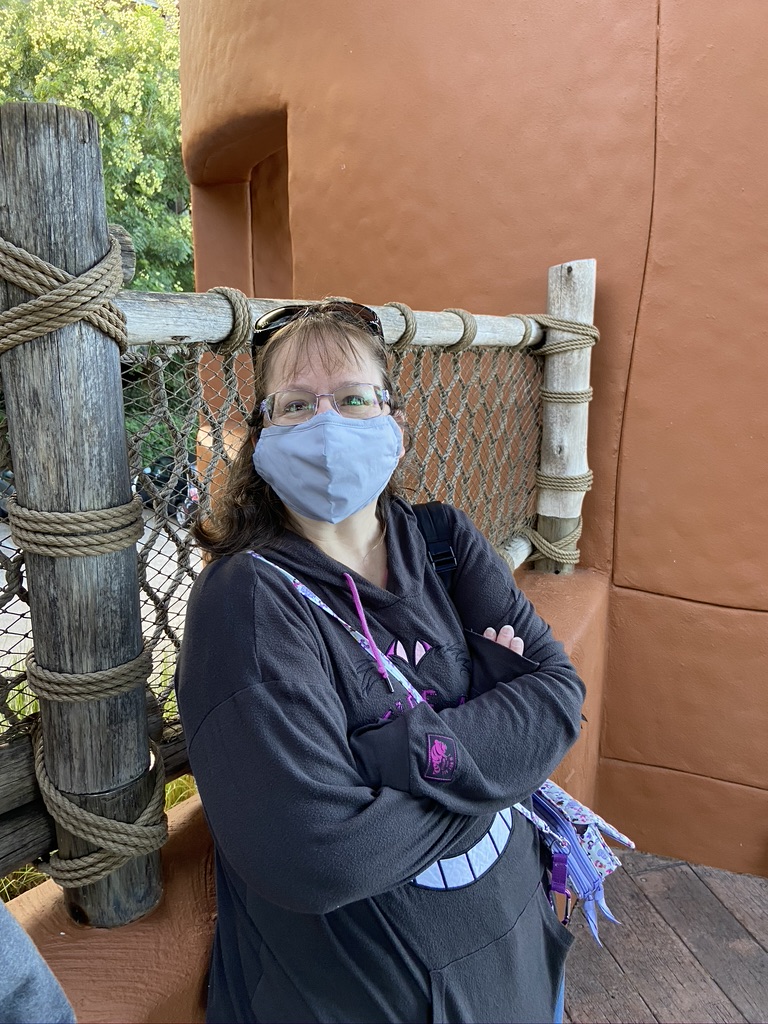 Kidani Village is the smaller of the two resorts located inside Animal Kingdom Lodge. The other resort, Jambo House, was closed except for one floor. The only gift shop and restaurant, Sanaa, was open, thankfully, in Kidani Village. Disney World was limiting guests to 25 % capacity in the parks when we traveled for the first time. To give you an idea about the parks, not all of the restaurants were open, and even some resorts were closed for refurbishment- Polynesian Village. Overall, it was a very different experience, but we were happy to be there. My wife who makes all the reservations and plans booked us a two-bedroom room in Animal Kingdom. It was amazing, the kids each had their own bed and we were in a separate area of the room. (below you can see how big the balcony was). Facemasks were required throughout Disney property, except in the pool, and while eating WHILE you are seated.
The First trip Oct 29th to November 4
The first three days, we Uber'd it and went to Universal Studios, which was more than fine with me. My wife found a buy 2 days, get 2 days free ticket to Universal. This means we planned only 3 days in Universal, 1 pool day, and 2 days in Disney. I did a little research on a new roller coaster at the Wizarding World of Harry Potter. Check out this long but very informative video about Hagrid's motorbike adventure. I couldn't wait to ride this, so when they let us in the park, the kids and I ran to this roller coaster along with everyone else. It was absolutely the most unique roller coaster the kids and I had ever ridden on. On the second day, when we rode this roller coaster, we did get stuck for several minutes, but it was all good. We got to explore Universal and see every nook and cranny. It seemed to me that all the restaurants and gift shops were open, unlike Disney. Universal capped the crowd, but we're not sure what percentage because it was a lot more crowded than Disney. It seemed business as usual or close to it. We were afraid we wouldn't get in if we got at the entrance too late, so we made sure we were early each day. On Halloween, we were extra early because the crowds were extra thick. Some people dressed up, but it wasn't the majority.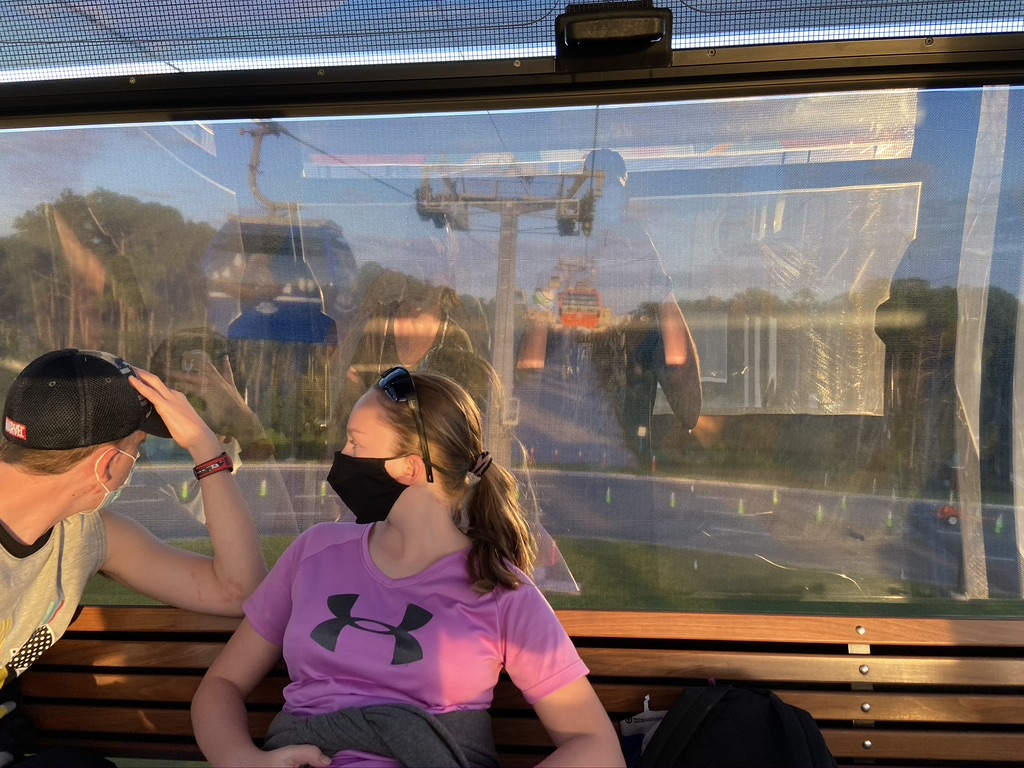 The lines at Universal were relatively long, but nothing too crazy except for butterbeer and the train line
The first two days in Universal, we first raced to Hagrid's motorbike adventure first thing, then kinda took our time the rest of the day. The lines were relatively long, but nothing too crazy except for butterbeer and the train line to get back and forth between the Harry Potter lands. The latter had a line over an hour wait each time we took it. The last time we exited the park and walked to the other side.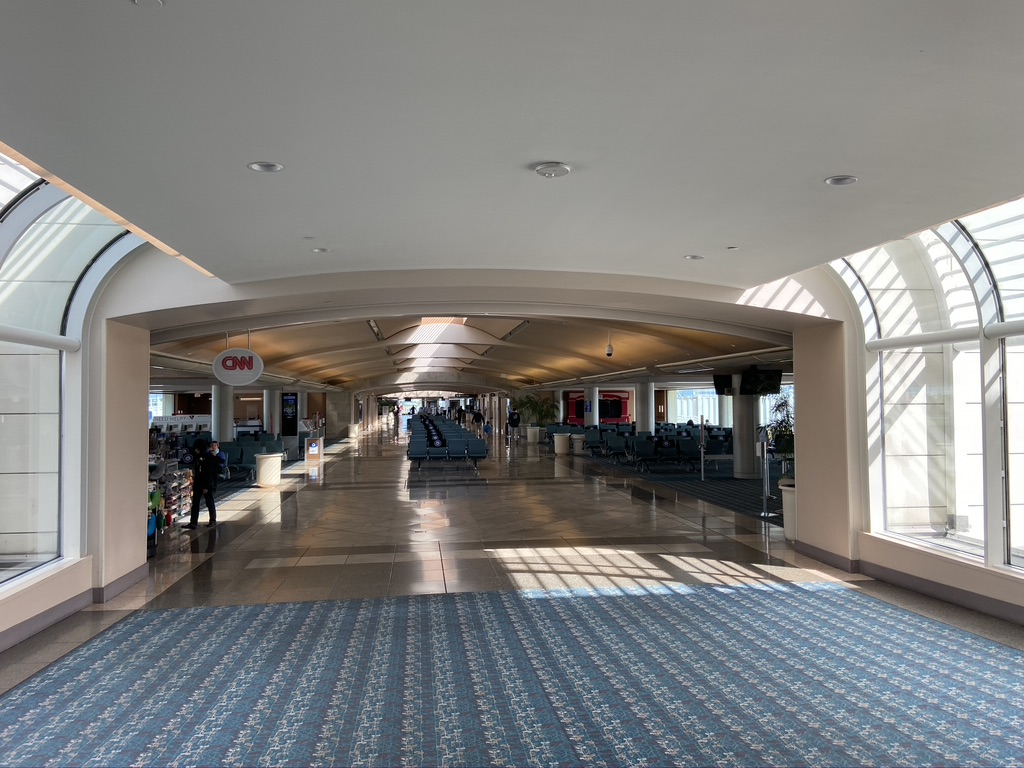 So it wasn't until the 3rd day the Saccamano's came down to Florida and stayed in Kidani Village with us (different room). Because we own Disney Vacation Club (not sure if I've mentioned that before), we had enough points to get a room for the four of us and also for the Saccamano's. Their two kids are roughly the same age as our two kids, and we've been on vacation with them several times before. Once to Ft. Lauderdale, FL. and once on a Disney cruise to the Bahamas. We've always gotten along with them well and had a blast both times. I think we even did a Royal Caribbean cruise up to Boston too.
I remember this night vividly because it poured (in buckets) down rain for over an hour.
On the third day, we were set to meet the Saccamano's for dinner. We wound up going to Paradiso 37 in Disney Springs. Mainly because that was the only restaurant that would take reservations for eight people on short notice. However, we were pleasantly surprised that the food had a South American/ Latin flair and was really good. Our waiter, from North Africa, was fantastic. I apologize I don't remember his name, but I would recommend him to anyone. I remember this night vividly because it poured (in buckets) down rain for over an hour. It waited to start until we sat down for dinner, and it let up and almost stopped right before we left the restaurant. Our fourth day was pool day. It was cool, but we still had a good time because the sun was out, and it still felt warm. I noticed throughout the day there was a north wind, though, and it continued through the evening. When we went to our reservations for dinner at Raglan Road at Disney Springs it was freezing. The wind was blowing 15 to 20 mph out of the north, and the temperature dropped to the low 60's. I brought a sweatshirt but quickly had to relinquish it to my daughter because she didn't bring hers. Several others bought sweatshirts- that's how cold it was.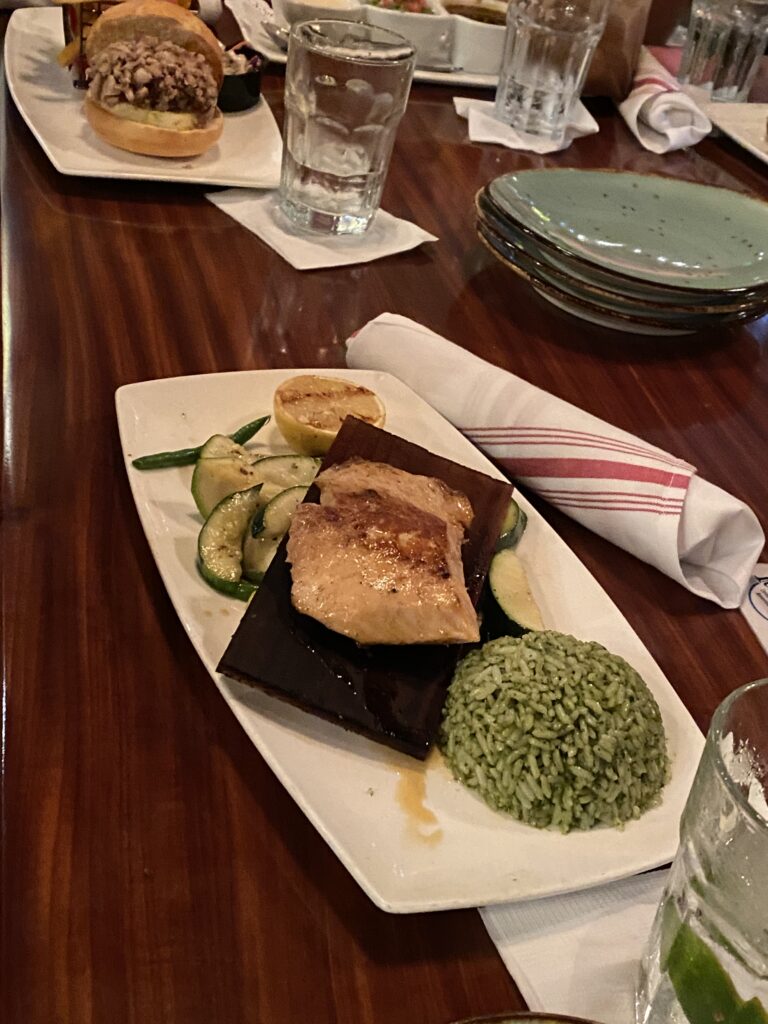 Although I've never stepped foot in an Irish pub
To make matters worse, the restaurant lost our reservations, so we had to make new ones, and we wound up waiting outdoors a little over an hour to get inside. Raglan Road has been a favorite of our family's for several years. They have live music with heavy wooden paneling, old wooden floors, and an excellent job making it feel like an Irish Pub. Although I've never stepped foot in an Irish pub, I've been to an English pub at Picadilly Circus in London, though.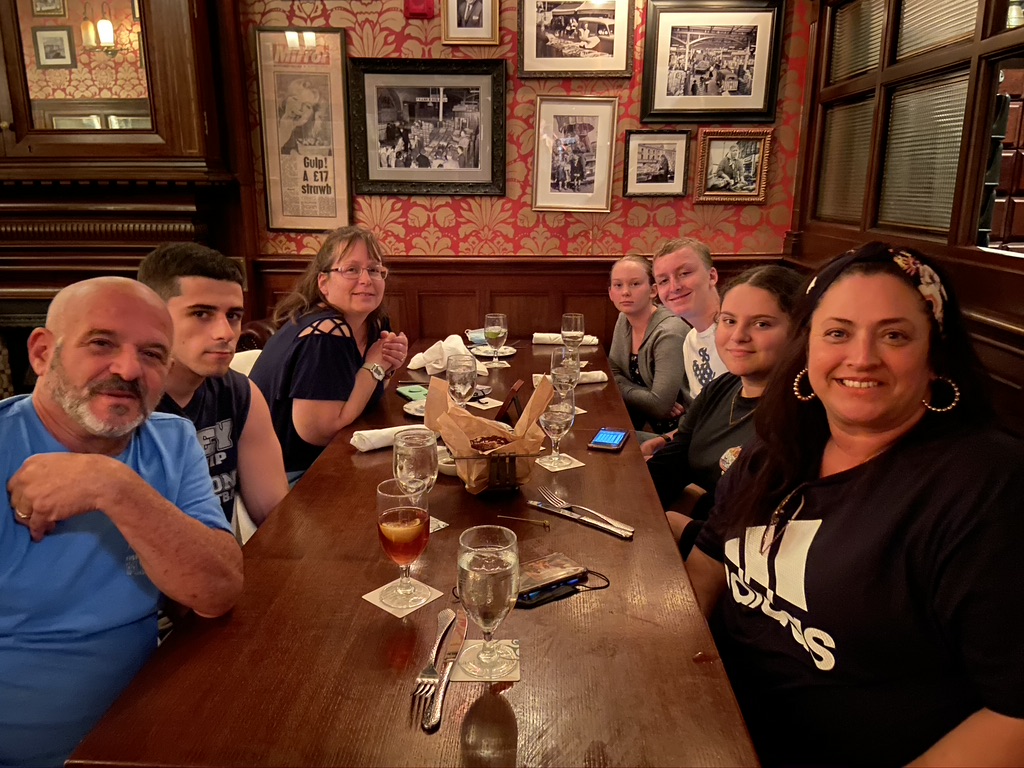 The Saccamano's like to 'wing it' when it comes to their vacations. They did not purchase tickets to get into the Disney parks, so they had two pool days, and then we met them for dinner both nights. The second night with the Saccamano's, we decided to have Italian dinner after Tina didn't care for the Irish pub and had a couple of mediocre lunches. Our friends are what you call foodies, and I guess I am too but African food, such as what they serve at Animal Kingdom Lodge, is a particular type of food. You really have to love their spices and flavors; cinnamon, curry, chilies, peppers, garlic, and cumin, to name a few. The kids don't like it, the Saccamano's didn't really like it, and my wife and I are the only ones that want it.
So Italian was on for the second night. Macaroni Grill was on the menu with their fantastic rosemary bread before the meal with olive oil for dipping. My wife and I still remember their bread even though we hadn't eaten it since Colorado in the '90s. We Uber'd it to the restaurant in two different cars. I was surprised to see that the restaurant mandated masks to be worn since the State of Florida had just gone into Phase 3, which meant no restrictions. Everyone was satisfied with dinner, so we decided to head back to the hotel even though we wanted to stay out later. I think everyone was a little sleepy from dinner. I had received a $5 coupon from Lyft that I could use via email, so I decided to use Lyft instead of Uber to ride back to Animal Kingdom Lodge. We always have this game when we go out to eat with the Saccamano's. At the end of the meal, when we receive the check, we always compare bills. They have almost always spent more on their meal than we do. It's a running joke now. Again, their kids are a tiny bit older than ours, and their son eats like a horse, but it's still funny.
On our last day at Disney, we gave our room to the Saccamano's after we left for Hollywood Studios. They had to check out of their room and were not getting picked up by the Magical Express until late that afternoon and then going on a night flight. We didn't leave until the following morning on a Delta flight back to JFK. On a sobering note the airport, JFK, we flew in and out of was deserted. It was a little scary I haven't seen airports and airplanes that empty since we flew a week after September 11, 2001.
2020 was an atrocious year, but in some ways, it makes you reflect on what you're grateful for
Overall the trip was amazing. We got to do so many things and made some memories at the same time. I wouldn't recommend anyone doing what we did per se, but I don't regret it, and I know we needed to get back to doing what we love doing. Life is not without risk and to live your life without taking risks is not living life to the fullest. We had taken massive precautions all year. My wife wearing a mask well before masks were even THOUGHT of being mandated. She started wearing them in October 2019.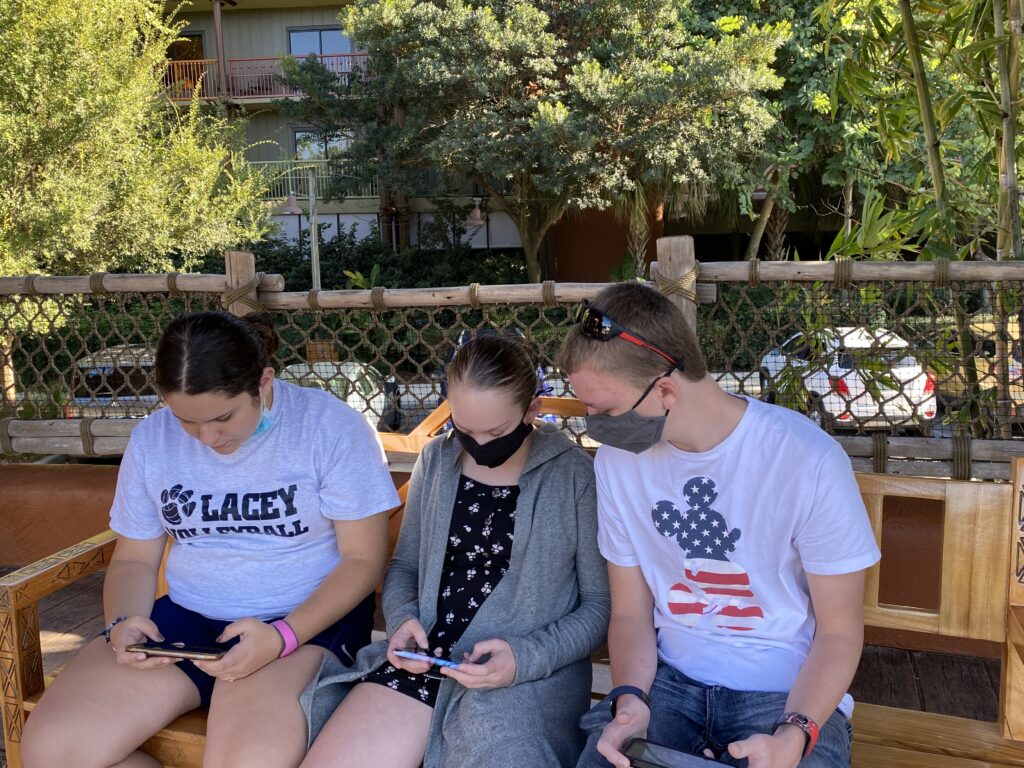 2020 was an atrocious year, but in some ways, it makes you reflect on what you're grateful for. I'm thankful for the fantastic opportunities we have as a family and the memories we have made. Hopefully, the kids will always remember these vacations and the people we shared them with.
Stay tuned for my second blog post about our trip to Disney in December.